YAHOO! MESSENGER

OFFLINE INSTALLER
1.
Yahoo! Messenger 11.0.0.1751
FIRST BETA
mirror 1
|
mirror 2
- support wat windows xp, vista ma 7
- YM versi 11 ini lebih konsen ke jaringan sosial, dgn YM ini kalian bisa melihat, memberi komen, dan memberi tanda suka pada beberapa jaringan sosial misal : Yahoo! Pulse, FLickr, Facebook, Twitter dan lainnya
- Posting satu status ke beberapa jaringan sosial secara langsung
- Support chat dgn teman2 di Facebook
- Histori percakapan dan panggilan dapat disimpan secara online
Preferences >> Conversation History Panel
2.
Yahoo! Messenger 10.0.0.1270
support wat windows xp, vista ma 7
3.
Yahoo! Messenger 9.0.0.2162
support wat windows xp, vista ma 7
4.
Yahoo! Messenger 8.1.0.421
support wat windows 98, xp, vista ma 7
5.
Yahoo! Messenger for Vista 2008.06.30.1046 [Discontinued Project]
hanya support wat windows vista 'n 7
Spoiler for review:
Kelebihan
- Desain YM / IM terbaik yang pernah ada sampe saat ini, eye catching bgt dan support aero
- 8 skin official yg ok abis
- Ukuran tampilan contact kita bisa disetting besar kecilnya sesuai selera
- Fitur multiple tabs nya membuat tampilan chatnya lebih simple alias ga menuhin desktop klo lagi chat ma byk temen
- Fitur Free SMS nya lebih simple
- Emoticon barunya lebih kerasa
- Bebas dari iklan2
- Bisa dipadukan dengan YM versi laen [jadi isa install 2 YM dalam 1 kompi]

Kekurangan
- Ga support wat windows XP [but isa diakalin koq]
- Ga cocok wat cpu yg pas2an cos ni YM agak berat dan rakus memori
- Belum support fitur webcam dan conference
- Gambar profile hanya bisa memakai avatar yahoo! alias ga bisa dipasangi gambar lain [masih bug]
- Merupakan versi beta terakhir, sayangnya pihak yahoo! memutuskan utk menghentikan pengembangannya
YAHOO! MESSENGER

PORTABLE
support wat windows xp, vista ma 7
1.
Portable Yahoo! Messenger 10.0.0.1258
2.
Portable Yahoo! Messenger 9.0.0.2018
3.
Portable Yahoo! Messenger 8.1.0.244
Pass: www.dl4all.com
YAHOO! MESSENGER

PROBLEM AND SOLUTION
A. Mengapa di YM saya ga keluar tulisannya saat saya mengetik?
Spoiler for jawaban:
Itu bisa jadi karena virus gan, coba agan2 ke
sini
untuk lebih detailnya, semisal cara tsb blom manjur ikuti langkah yg ada di post berikut :
Quote:
Originally Posted by
kucinku
gan kenapa YM saya ga ada tulisan pas ngechat....
saya uda coba cara yg disini, tapi masih gak bisa...
regsvr32 wshom.ocx enter
regsvr32 jscript.dll enter
regsvr32 urlmon.dll enter
regsvr32 c:\Windows\System32\vbscript.dll
scripting di IE jg uda gw enable-in semua...
uda saya cobain dan semua succeeded n file scripten uda ke install dan katanya ga perlu install lg....
kira2 kenapa ini??
sebelumnya ga begini uda gw coba install ulang tetep aja ga bisa...
B. Mengapa emoticon di YM saya ga bergerak?
Spoiler for jawaban:
Bagaimana cara membetulkannya? Perubahan setting justru bukan dilakukan pada YM! Begini langkah-langkahnya:
1. Bukalah IE (Internet Explorer) Anda.
2. Klik menu Tools - Internet Options...
3. Klik tab Advanced, lalu cari bagian Multimedia.
4. Centanglah Play animations in webpages, agar emoticon YM Anda dapat beranimasi. Kalau tidak maka emoticon-nya tidak bergerak.
Pembetulan selesai, masalah emoticon YM beres.
sumber
YAHOO! MESSENGER

PLUG-INS
1.
Yahoo! Messenger Tweaker
plugins wat multiple login YM, gonta ganti animasi di menu awal dll
Spoiler for review:
Yahoo! Messenger Tweaker offers you the possibility to customize your messenger's settings and to easily restore your configuration.

Here are some key features of "Yahoo Messenger Tweaker":
· Enable multiple instances
· Remove Ads
· Enable tabs
· Fix (cannot see what I type)
· Save password for ID
· Rename titlebar
· Change login animation
· Clear status messages
· Grab user avatar
2.
Ad Destroy
dan
Ad Banner Remover Plus [ampuh wat YM 11 dan 10]
plugins wat ngilangin iklan2 di YM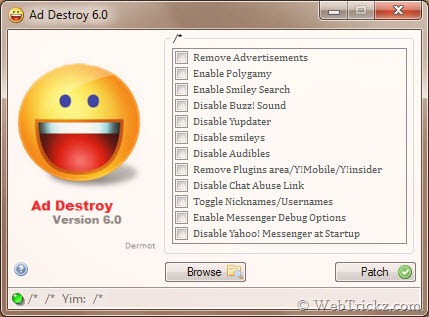 Spoiler for review:
Ad Destroy 6.0 Features:

Remove Advertisements
Enable Polygamy
Enable Smiley Search
Disable Buzz! Sound
Disable Yupdater
Disable smiley's
Disable Audibles
Remove Plugins area/Y!Mobile/Y!insider
Disable Chat Abuse Link
Toggle Nicknames/Usernames
Enable Messenger Debug Options
Disable Yahoo! Messenger at Startup

Ad Destroy 6.0 is available in 32-bit & 64-bit, and officially supports Yahoo messenger 10.

To use it, browse and select the yahoo directory (Default location is C:\Program Files\Yahoo!\Messenger\) and click Patch button.
3.
Yahoo! Messenger Now Playing
plugins wat ganti status YM kita sesuai dengan lagu yg lagi kita puter di winamp
4.
Foxy Tunes
Plugin Pemutar Lagu Di Yahoo Messenger
5.
YEmotePLUS hidden emoticon plugins
dan
Hidden Emoticon on the web
wat nampilin emoticon2 spesial dari yahoo! [sapa tau ada agan2/aganwati yg belum tau
6.
Yahoo! Messenger Invisible Checker
wat mengetahui temen2 YM anda yg lagi invis, semisal klik di atas udah ga bisa agan isa coba cari di sini
7.
Art Sender
wat nampilin gambar2 yang dibentuk make kombinasi beberapa karakter
8.
Cara Memperindah NickName Yahoo messenger
—÷÷÷»»»»§««your nickname here»»§««««÷÷÷—
YAHOO! MESSENGER

ADDITIONAL SKIN
1.
Y! Phone
Spoiler for preview:
2.
Pank
Spoiler for preview:
3.
iTunes
Spoiler for preview:
4.
Y! CS4 Essentials
Spoiler for preview:
5.
Yahoo! LIVE Skin

Spoiler for preview:
6.
MAC Style
Spoiler for preview:
7.
Aero 7 Ultimate
Spoiler for preview: